Telltale Games has released a number of highly entertaining point-and-click titles such as the Sam & Max series, Bones, Strong Bad's Cool Game for Attractive People and CSI: Hard Evidence. Their next adventure is a grand one, as they tackle the pop culture smash, Wallace & Gromit. Wallace & Gromit's Grand Adventures is set to be a four part, episodic series that will take you right into the mischievous doings of the absent minded, cheese loving inventor, Wallace, and his intelligent witty pet and life saver, Gromit. This grand adventure begins on March 24th, 2009 on PC and Xbox Live, and will continue in May, June and July of the same year. The whole series includes characters new and old to the Wallace & Gromit legacy with a brand new story, mishaps and conflicts. Your job is to assist the duo in locating solutions to their problems.
The series starts out with Episode One: Fright of the Bumble Bees. We begin in the main duo's home on West Wallaby Street in the early morning, with Wallace requesting Gromit to assist him in getting out of bed and making some breakfast. The opening of this game is a rather entertaining and quick puzzle to assist you, the player, in getting atoned to the controls and keystrokes needed to work through the adventure. The controls flow rather well, with the occasional character moving toward a direction you would not like it to, but not to any extent of ruining the value of the title.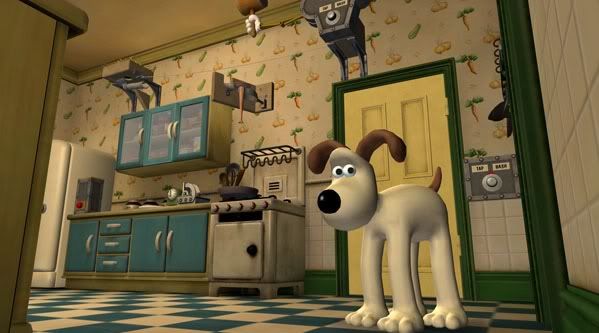 From the introduction portion of the game, you jump right into an intriguing story of Wallace finding himself running behind on paying some bills. On top of this, a local store owner is extremely upset with Wallace because his cheese sniffing invention destroyed his shop. With the shop owner being made aware that Wallace is getting into the honey business, he requests that Wallace supply him with 50 gallons of honey before the day is over. Desperate to resolve the issue, Wallace, resorts to whatever quick solution he can whip together, without any thought of consequence.
The story develops extremely well and will keep you drawn in with each scene not being too long; yet still working your brain well enough to remain a challenging puzzler. There is plenty of spoken dialogue, which is key to this title, as is most point-and-click titles. If any spoken dialogue is present that is not part of moving the story forward, it is there for a reason: To give you clues. There are a handful of items that are interactive but are not accessible, but I believe these items and areas will play a significant roll in the remaining three episodes.
The environment and characters are very well rendered. The detail and grand use of color flow smoothly to make an eye appealing presentation. From the interior of the house, to the exterior to show West Wallaby Street, the sites add to the entire experience. There is always something to interact with in every screen to assist you in hitting your game completing goal.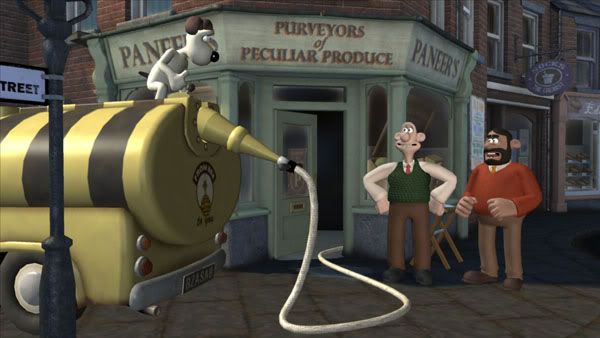 The voice acting, audio effects and music score are top notch. Unfortunately, Peter Sallis does not reprise his role as the voice of Wallace, but, the backup voice fits as a near perfect replacement. The rest of the voice acting cast do a fantastic job at making the remaining characters show their personality and role in the story. The music score throughout the title keeps an upbeat, happy go lucky feel, yet not overpowering where you feel you'd have to turn it down from annoyance. It is a well balanced soundtrack that sets the mood in each scene to perfection.
Complete with its well rounded story, solid audio editing, stunning visuals, and even the slight cliff hanger ending, Wallace & Gromit's Grand Adventures: Fright of the Bumble Bees has left me wanting more. This title should fair well with old and new fans alike.
/Gamer score for Fright of the Bumble Bees: a respective and earned 9 / 10
Wallace & Gromit's Grand Adventures: Fright of the Bumble Bees is available today for download on the PC and Xbox Live Arcade.