360 Review: Rock Band 2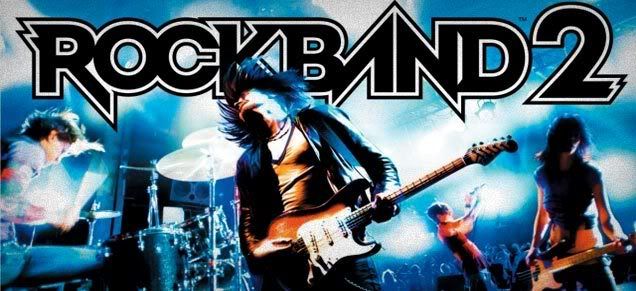 Rock Band has been rocking the gaming community for only 10 months now, and the sequel has already been dropped upon us. Rock Band 2 is, for the most part, more of the same from its predecessor, with a few minor tweaks. It is going to be hard to review this title without referring to first installment, so lets just cut down to the chase.
Continue reading after the jump
Rock Band 2 comes packaged with 84 master tracks, and a voucher for 20 free DLC tracks. (at the time of this review, the title of these 20 tracks were unknown). Harmonix wanted to release Rock Band 2 with over 100 tracks, but the limitation to the DVD size did not allow for this. These 104 total tracks include an array of music from Classic Rock, Modern Alternative, 80′s Pop to Heavy Metal and so on. With this broad selection, Rock Band 2 is bound to entertain just about everyones musical taste. The great news is, you're not stuck with just these 104 tracks… if you own the original Rock Band and have a HDD on your 360, for a small one time fee of $5, you can snag an application that allows you to export 55 of its original 58 tracks for use in Rock Band 2. But that's not all! Every DLC track and full album from the past 10 months are fully compatible with Rock Band 2. These facts alone make it completely worth the $60 for the disc alone!
The game modes in Rock Band 2 are much the same as they were in Rock Band, but for those of you stuck playing on your own (or choosing to do so), the linear style of Solo Tour is now non-existent. Whether you're touring the virtual world solo, or with your talented friends, the World Tour mode is the only direction you can go in order to unlock additional music. Quickplay modes are still available if you just want to jam. World Tour in Rock Band 2 works just the same as it did a year ago. You still have to create a band name (the automatically generated names can be rather humorous), earn the respect of fans, rank up a collection of stars, earn better transportation, and play setlist after setlist. With all of this still in tact, there are a few additional cities and venues added to the mix. The more cities you open, the more of the 84 tracks you unlock. A major change in the World Tour mode is the fact that you can now gather your band together over Xbox LIVE! You no longer have to invite your friends over for a night of World Tour and have them freeload off of your Funyuns and Mountain Dew.
Training for each individual instrument is still available, as well as having the option to practice any song you have access to. A large addition to the training options in Rock Band 2 is the Drum Trainer. Drum Trainer is separated into three sections. Beat Trainer gives you a selection of different drum beats you can speed up and slow down the tempo on, to help learn some of the basic beats that take place in the music library. Fill Trainer assists you in improving your skills in doing your drum fills to help you successfully unleash overdrive during gameplay! FreeStyle Mode lets you play any mp3 song you have in your media library on the 360, and play the drums to the selected song!
Another great addition to the online world with Rock Band 2 is the Battle of the Bands! At first, it sounded as if the Battle of the Bands mode would have been two bands duking it out at the same time for best score, star count, or even longest note streaks per instrument. This is NOT the case. What Battle of the Bands does, is set a short term, or long term challenge online for bands to give their best go at. There is no limit to how many times your band can participate in these events/challenges. In addition, it may not always be a full band challenge. It may be requested that one specific band member represent their band with a solo. (doing this still earns money for the whole band, not the singled out member) Harmonix will be updating these challenges online on a weekly basis.
Character creation is all just more of the same in Rock Band 2 as well. There are a good portion of new, and insanely odd outfits, accessories and hairstyles, as well as a few additional face models to choose from. Unfortunately, you cannot transfer your characters from Rock Band to Rock Band 2. But, this time around, you only need to make one character that can be used for all instruments! You no longer have to have a separate character for guitar/bass, vocals and percussion! Just one rock star to rule them all!
The settings menu has a MASSIVE improvement in the fact that you can now run through a wizard to synchronize the audio with your TV connection. The owners manual within the game package gives manual defaults you can set to your specific style of television if you choose to do so.
All in all, Rock Band 2 runs pretty much the same, if not a little more fluently, than the first Rock Band. This is not a bad thing in any way. The series still delivers, at minimum, JUST as much entertainment as it did 10 months ago. The Rock Band series is a full speed locomotive with absolutely no signs of slowing down.
/Gamer score for Rock Band 2: a respective 9 / 10
Related Posts